Welcome to Bausch & Associates
Senate Passes Tax Reform Bill
The Senate passed its version of the tax reform bill early Saturday morning on a vote of 51-49. The vote came after last-minute negotiations between Senate leadership and key holdouts who had concerns about the treatment of pass-through entities, the state and local tax deduction, and the effect the cuts would have on the budget.
The legislation calls for a 20 percent corporate rate, a 23 percent deduction for pass-throughs, and rate cuts for individuals, though the pass-through and individual provisions are set to expire in 2026. One last-minute change retained the state and local tax deduction – up to a $10,000 property tax write-off—making the Senate bill more like the House version.
The change with respect to passthrough entities means that top earning pass-through owners—those taxed at the 38.5 percent rate—would pay about 29.6 percent on their business income.
The Senate bill also included some revenue raising provisions to offset these costs. Among them is a measure to maintain the corporate alternative minimum tax, as well as the individual AMT, but with higher exemption levels than under current law.
The bill would cost about $1.45 trillion over a decade, according to estimates from the Congressional Budget Office but Republicans maintained that revenue growth would more than pay for the revenue loss. However, a Joint Committee on Taxation dynamic estimate on a previous version of the bill said it would add about $1 trillion to the deficit over 10 years.
Last-minute changes to the Senate bill include:
a provision specifying that master limited partnership unit holders can claim the 23 percent pass-through deduction;
a provision for cash distributions for an S corporation converting to a C corporation;
higher repatriation rates on corporate profits held overseas— at 14.5 percent for cash and 7.5 percent for illiquid assets, up from 10 percent and 5 percent in an earlier version of the bill, two tax lobbyists told Bloomberg Tax;
a lower threshold for deduction of medical expenses—7.5 percent of gross income for two years.
A copy of the Senate GOP amendment is available here. Please note that, prior to the final vote, lawmakers adopted an amendment from Sen. Ted Cruz (R-Texas) that would allow funds from Section 529 savings accounts to be used for elementary and high school tuition.
The House and Senate will now begin to work out any remaining differences between their two bills, including how to approach pass-through taxation and whether the plan should include an alternative minimum tax. The final, identical version of the bill will have to pass both chambers before Trump can sign the bill into law. Importantly, neither the House nor the Senate tax reform bills contain provisions that would impact the upcoming filing season.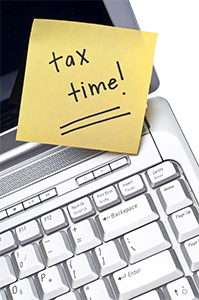 We are there for you!
Call us for your appointment Today...
Tax $avers
What should I save?
Record Keeping
Imagine you've been selected by the IRS for an audit. Do you have the proper documentation to support your tax return? What does the IRS look for to validate your claimed income, deductions or tax credits? A little work now can mean no headaches later should you need to defend your tax return.
Generally, you need to consider three things when defining the record keeping requirements for the Internal Revenue Service.
What Records to Keep
What is Required as Proof
How Long to Keep Records
---
New Capitalization & Repair Regulations
Click here for more information
Be sure to check our new tabs/pages on the healthcare reform act. Healthcare Reform& Healthcare Act Overview
Our Online Office brings financial services directly into your home or business enabling you to more actively participate in your financial management. You can:
Use the Financial Calculators to assist you in budgeting, financial planning, or determining loan payments.
Stay Alert to tax and accounting news by reviewing the client newsletter.
Register Your E-mail Address to receive important announcements through Service PLUS!
Review Tax and Financial Topics of Interest in the Additional Pages section of our site
Please browse the pages of this site and feel free to e-mail any questions, suggestions or other feedback. Visit often as current news impacting your financial situation will be outlined here.
---
Important 2017 Tax Changes
Individual Taxes
Tax Rates. For now, tax rates remain unchanged in 2017, though the income brackets that apply to these rates have been increased approximately 1% to 2%.
Year
2017
Income Tax Rates
10$, 15%, 25%,
28%, 35%, 39.6%
Long-Term Captial Gains
Tax rate if in...
2017
10% and 15% income tax brackets
0%
25% through 35% income tax brackets
15%
39.6% income tax
20% + 3.8% NIIT
The higher 39.6% tax rate applies to anyone who has income above $418,400, single, $444,550 head of household, and (with marriage penalty) $470,700 married filing join.